Kestrel System, Planet of Kes'Mel
Orbit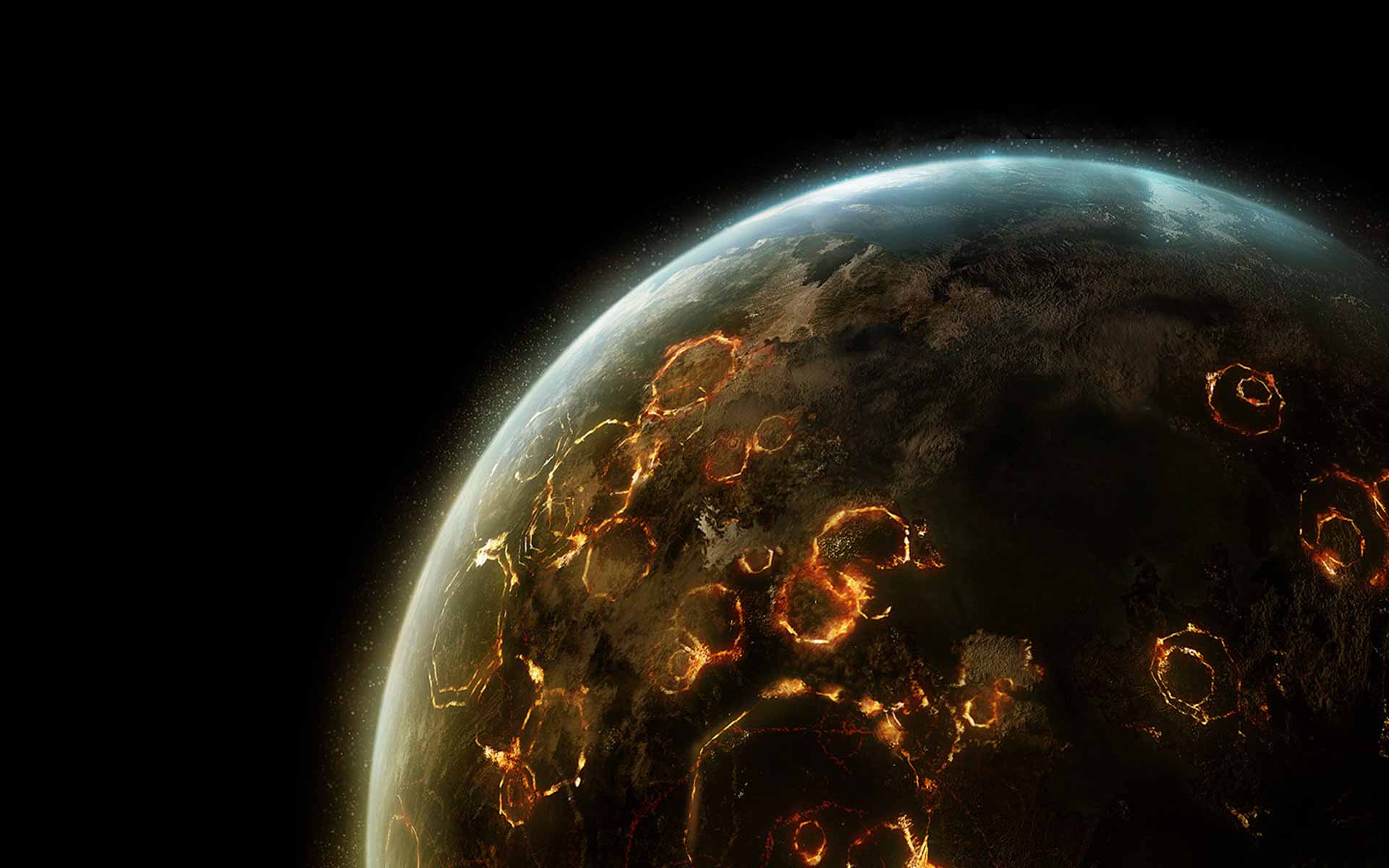 The trade frigate of the Exthuran Empire would be met by a sight that would cause one to shudder to their very bones. Every. Single. World within' the Kestrel System, including the planet they warped in closest to, Kess'Mel, are utterly destroyed. They burn with radioactive fire, consumed with radiation, fallout, and are currently going through a horrid, freezing, and deadly nuclear winter. Starship wreckage fills the very planetary system from end to beginning, surrounding almost every single planet within' orbit around the large sun, Kestrel. Upon the worlds, very little activity is present; possibly only minor attempts at terraforming and only subtle communications... It is clear that whatever civilization lived here has been utterly destroyed. Although it is clear that life remains, with brief communications sent out into space which consist of a series of barks, honks, and chirping noises as sentient being attempt their best to pull themselves from the wreckage of their many collapsed homes, they are not doing very well.

Unfortunately, as they Empire attempts peaceful communications, their radars, or other detection technology, would suddenly activate upon recognition of a captains worst nightmare..

A weapons lock.
In the distance, a small yet dangerous looking frigate, moving at a speed unmatched by anything the trade frigate would have ever seen before, would suddenly blast it's engines to full speed. The bright blue glow of the alien crafts engines burn violently into the dim, yet bright light of space, before it begins to make it's way towards the trade frigate. The sensors that had been launched by the trade frigate are targeted as well.

Within' moments, the trade frigate would receive a return message. Strangely, it is in a clearly synthetic voice, and it mimics the language of the Exthuran Empire well, although the words are much less than inviting.++-'ATTENTION ALIEN SPACECRAFT. YOU ARE WITHIN' SYSTEM REPUBLIC BORDERS. RE-CALL ALL PROBE UNITS AND LEAVE THE SYSTEM IMMEDIATLY, OR BE FIRED UPON. YOU HAVE FIVE MINUTES TO COMPLY'++
_________________

EyesofMarch




Posts

: 102


Join date

: 2013-01-22



Kestrel System, Planet of Kes'Mel
Orbit
"Diplomacy has been met with hostile alien weapons lock, Captain. Directives?"
The Captain thought for a moment, his face remaining stoic.
"Recall probes, this system is dead anyway. I want our weapons systems online, and ready the fighter squadron."
He rose from his seat, thundering down the stairs of his overlooking balcony and moving beside the pilot, snatching the radio from his grasp and speaking into it. The voice speaking was emotionless and monotone,
+Our probes are being called back. Our FTL drive will take time to power up. We seek diplomacy, not violence. On behalf of the Sovereign Empire of Exthura, I urge you to renounce your threat of violence and engage in peaceful diplomatics.+
_________________

Pablo




Posts

: 14


Join date

: 2013-01-28


Age

: 21


Location

: New York, New York



Kestrel System, Planet of Kess'Mel
Orbit

The SRNC-02 Heavy Frigate continues to barrel towards the Exthuran Trade Frigate, drifting through the darkness of space; it's sublight engines having deactivated. As it begins to near the Exthuran craft, it begins to coast sideways; turning it's upper hull-sections towards the craft to allow it's main weapon systems to align with the alien trade frigate. Quickly, it begins to 'orbit' around the trade frigate with surprising speed and precision, and with the heavy energy signatures coming from the many weapon systems onboard the Heavy Frigate-class ship, it is apparently ready for combat if need be.

While it does this, the female, synthetic voice returns to answer the call of the Exthuran Captain. The synthetic voice, in comparison to that of the Exthuran Captain, is not monotone, and certainty not emotionless. The female voice carries with it a thunderous level of anger and hatred, as if it had personally been insulted by the very act of the aliens being here.. That, or it may have something to do with the fiery state of the many planets in the Kestrel System.

Nonetheless, the SRNC-02 Heavy Frigates replies, and not at all in an inviting manner.

++-'And on behalf of the Systems Republic and her Imperial Highness.. We do not want contact with anyone within' our borders. Are you blind, alien? Does your race lack eyes? If so.. Let me explain to you what you see.. You see death, on these worlds. Billions of lives, exhausted in the blink of an eye. In light of this situation.. This Republic of Kal'Bavakorian Systems does not wish to commit diplomatic relations with any races to which it has not already done such to. We are too busy, and we are too angry.. And we are not trusting of aliens in our homeland. So once again, I ask.. No.. I demand that, under the authority of the Colonial Administration and that of SYS-FLEETCOM, you must leave this space immediately, or face immediate destruction..'-++
_________________

EyesofMarch




Posts

: 102


Join date

: 2013-01-22



Kestrel System, Planet of Kes'Mel
Orbit
The captain stared blankly at the radio, his face expressionless. The pilot who sat under him grew uneasy; his face remained stoic but his body language grew ever more uncomfortable. The pilot could smell the captain's frustration.
The captain grasped the radio again, speaking into it. His voice was unchanging,
+Very well. Our FTL systems are online. Enjoy your wasteland.+
He tossed the radio's microphone onto the dashboard of the pilot's dashboard harshly, turning on his heel and marching back up to his balcony, having a seat.
"Engage FTL. Get us back to Exthura.""Very well, captain. FTL initiating. Crew, brace."
As before, the crew scrambled into their seats. The whirr of an active FTL was heard before the ship blasted through the Kestrel System, making its way back to the Dravuk System. Back to Exthura.
_________________

Pablo




Posts

: 14


Join date

: 2013-01-28


Age

: 21


Location

: New York, New York



Kestrel System
Capital World of Kess'Mel, Ruins of Nunembaghra
A soft sigh was heard over the communications chatter between the two Kal'Bavakorians as they pushed the end of the large mining lazer into the crumpled remains of a collapsed, irradiated skyscraper that once belonged to the active life of Nunembaghra. It had fallen straight over the walls of the city, and the top end had smashed right into what used to be the farm fields that supported the cities livestock and population. All that remained of it now was simple dirt and dust, unusable and totally lethal to the touch. '..How much left of the quota do we have to complete before the end of the day?'A feminine grunt was heard in response, followed by a sullen reply of honks and chips,'Another ton of alloys.. We have to have it back to the outpost for transport in a few hours.''Fuck... What if we don't get out mea-...''If you want to eat, shut the fuck up and get that laser working. The building won't transport itself.'Both of them were Enslaved; the lowest of the low in Kal'Bavakorian society. Whether or not they were Citizens of Civilians before their enslavement, they had performed a crime applicable to a set amount of time of hazardous labor for the government. They weren't Indentured Servants, who 'sold' themselves safely away to make money, or to pay off a debt, and were kept safe from hazardous jobs.. They were Enslaved. They had to perform tasks that Citizens and Civilians couldn't do safely, and that they couldn't risk sending in expensive OI Drones to perform. And strip mining the irradiated remains of the Kestrel System was dangerous work. Both had at least another two years in their sentence, and they were lucky. Most Enslaved never got released from their imprisonment by the Republic.. Hell, some weren't even convicted of doing a crime, they were just thrown into slavery due to being in the wrong place at the wrong time..

As the male Kal'Bavakorian, dressed in a heavy Infantry Exo-Suit to protect himself from the irradiated world, slowly inserted a new set of charge wiring into the damaged side of the large, ten foot tall mining laser, which they had pushed over to this side of the skyscraper with the help of the Exo-Suits. With the wiring replaced, the male slowly stepped away from the side of the machine, stepping silently into a puddle of irradiated water. He paused to yank softly at the collar around his neck, adjusting the gently glowing-red device.. Although he was careful not to do too much adjusting. While it was uncomfortable, if he removed it or damaged it in any way, it would explode. And he certainly planned to live out the remains of his sentence.. '..You fix the charge wiring yet?', called out his female companion, who was sitting in the drivers seat of the mining laser. She had activated the holographic control console, and was slowly sorting through the functioning systems as she prepared for confirmation of the replaced wires. The Republic badly needed these new supplies, she knew, and it just kept getting worse every cycle. When they only needed a ton of rubble last week, they needed at least ten a day from each team now.. And it was getting to be too much. The city was almost completely uncovered at this point, and they would have to start actual mining operations into the crust of the planet.. And since it wasn't habitable anymore, no one really cared how much material they yanked out of the world, or any of the nuked planetary systems. It was like free money... Free, cold, dead money..

A sudden cold, irradiated wind caught her off guard in the midst of her thinking, and a bit of dust flew across her visor, the chill of the wind getting through her suits thermal devices, causing her to shudder... Not totally from the cold, though. With a soft grunt, she rubbed it off in time to hear her partner reply with a stark,''YEAH.. NOW TURN IT ON ALREADY!'She slammed her thumb upon the spherical control device, and the laser began to churn quickly. The head of the laser quickly rotated, sparkling with green fire, before it began to erupt large blasts of energy from it's business end. Quickly, the laser carved into the ruined skyscraper, tearing away small sections of the hull, which were picked up and piled in the grav-trailer on the back of the mining laser by the male Kal'Bavakorian. They had searched the ruins earlier and removed many of the personal possessions, and bodies, and brought them back to the outpost to be sent back to the Republic. These items would be brought back to the families to whom they belonged to. The most interesting find they had heard about was a collection of living Kal'Bavakorian eggs that a group of slaves had rescued, and they were being checked at the outpost, and hopefully hatched and rescued. Even with that though, as they worked, the female, and the male as well, couldn't help but feel a dark presence within' their grey, Kal'Bavakorian hearts, almost like they were taking items that did not belong to them..

They were stealing from the dead anyway. Their homes would become ships, their planets become mines.. Their tombs would be eviscerated. Would their spirits haunt their dreams tonight, after all they had done?

Probably. They hadn't gotten a good nights sleep since they arrived here anyway...
_________________

EyesofMarch




Posts

: 102


Join date

: 2013-01-22





Similar topics
---
Permissions in this forum:
You
cannot
reply to topics in this forum